Lessons are relaxed and fun, and Louisa prides herself on constantly finding new ways to motivate and engage her students, encouraging them to explore different approaches to playing and new music.
Many people are nervous about having their first lesson, but the £10 taster session is a great opportunity for Louisa to find out more about you and what you'd like to learn so she can tailor a course of study especially for you. This means that you can learn the type of music you'd like to play – it might be film soundtracks, songs, classical works, exam pieces or jazz. It might even be your own musical ideas you'd like to play, and Louisa can show you how to make improvising and composing easy.
If this is your first time playing the piano don't worry – it's not all Twinkle Twinkle Little Star! Louisa can get you playing along to songs you love within the first couple of sessions.
"I was a total beginner, and at the age of 64 was worried I might have left it too late to learn a new skill, but by the end of my second lesson I was banging out the chords to 'Jolene' and happily crooning along!" Barbara, student
If you are a beginner, it's a great idea to learn how to read music alongside learning your new instrument, and Louisa specialises in teaching these skills. Learning to read music is so rewarding, as it opens up a whole world of new music that you can simply turn to in a book and play.
Band skills can also be taught in the lessons. These will give you the ability to use the piano as a rhythm instrument so that you can play with other people or even sing along yourself. Band skills are easy to learn, lots of fun to practise, and will make you be able to play famous songs with ease.
With a 100% pass rate, Louisa is very happy preparing students for exams, whilst keeping the focus always on enjoying and exploring the instrument.
Making up your own music can be very enjoyable, and Louisa gently encourages her students to include some creative time in their practice. Improvising on the piano is incredibly relaxing and can really calm and still the mind after a hard day, so it's a lovely skill to gain confidence in. Composing, too, can be immensely rewarding, as well as vastly improving your theory skills. Students can type up their own compositions on music software and print them out to keep.
"Lots of musicians decide to teach for a bit of extra income, but Louisa is a teacher first and a musician second, which means that she really knows how to explain things at a beginner's level, and has supernatural levels of patience as well!" Peter, student, age 81
Having played so many genres of piano music herself, Louisa enjoys introducing her students to different types of music from all around the world and ages, so those who are not yet sure what kind of music they like to play can experience the wealth of diversity out there. You might discover a proclivity for the Russian Romantics, a predilection for polkas, or a penchant for the Blues. One thing everyone always enjoys is exploring the curious sounding scales that different countries have and the unfamiliar sounding music that they can create.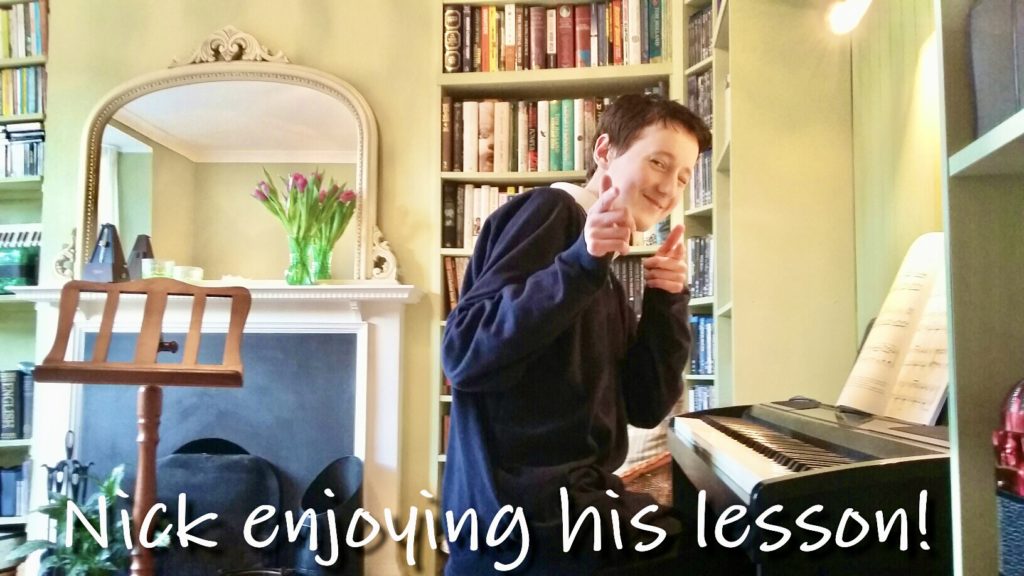 With so many years teaching experience behind her, parents of young learners can be confident that Louisa will provide a caring and professional service. Children will keep a homework diary and regular feedback will be given to both child and parent. Parents can also request written reports of their child's progress, as well as being welcome to sit in on classes.
Piano lessons can include:
music theory
aural training
composing
improvising
band skills
sight-reading
world music
scales and arpeggios
technical studies
playing to backing tracks
memorising tools
exam preparation